Monograph
by M. Nešlehová, J. Hilmera, R. Švácha
| | |
| --- | --- |
| 1/ ONE OF THE AVANT-GARDE | |
Few ever caught a glimpse of the elderly man in the hat as he sat on a bench at Vítoň, on the Prague embankment by the railway bridge, in front of a Baroque building that was once a customs house. He would have been observing the pulse of the city and the river Vltava as it flowed quietly by. And few of those hurrying past would have recognized him as Vlastislav Hofman, an important Cubist avant-garde architect, a former member of the revolutionary Skupina výtvarných umělců (the Group of Fine Artists), town-planner, bridge-builder, designer,
painter and graphic artist, one of the group called the Tvrdošíjní (the Stubborn), and an internationally acclaimed stage designer. His friends and artists in the theatre called him Fikula and Fikulda. — He always had a stub of pencil ready in his pocket. He would draw new ideas on anything that came to hand: a napkin, a small sketchbook he had made himself, a menu. He was famous for jealously guarding his ideas. He spoke little, adhering to Goethe´s saying: "Create, artist! Do not talk."
| | |
| --- | --- |
| With Václav Špála in Sobotka | Cover of Der Sturm V, 1914, no. 4, with Hofman´s linocut of a façade |
| | |
| --- | --- |
| 2/ HOFMAN THE ARCHITECT AT THE INTERSECTION OF TIME AND PLACE | |
One of the striking things about the architectural work of Vlastislav Hofman is the apparent contradiction between its parts. On the one hand, there is Cubism, in designs and also individual buildings, which seem like outbursts of the artist´s imagination, defying the laws of physics. On the other hand, there is Hofman´s work on the architecture of bridges. Their designs, by contrast, were governed by physics and engineering, while imagination was out of the game entirely. At first glance, it seems as if Hofman, in his Cubist period, roughly 1911—24, worked as an artist,
designing buildings according to his own will and fancy. In the "bridge" period, by contrast, beginning with the competition for the Jirásek Bridge in Prague in 1926, he approached his tasks as an engineer whose freedom to decide was restricted by precise calculations. — I believe that one can shed new light on Hofman´s work by questioning whether there really was such a contradiction. One can start by determining whether Hofman´s Cubist designs conceal some important engineering component, and, on the contrary, whether or not his bridges are characterized by some distinct artistic aspect. Of course, one has to flesh out this interpretive framework by addressing other questions raised by the complex character of Hofman´s work.
Vlastislav Hofman and Vilém Dvořák, Design for the square below the Emmaus Monastery, Prague, perspective of the area below the monastery, 1913, Indian ink and watercolour on paper, 41 x 85 cm
Design for the rebuilding of the Vyšehrad Citadel, Prague, view of the steps from the square to the viaduct and along the rampart to bastion XXXVIII, 1915, pencil and coloured pencil on cardboard, 42,5 x 52,5 cm
| | |
| --- | --- |
| 3/ THE POLYHEDRON IN HOFMAN´S APPLIED ART | |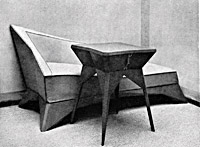 In the small circle of architects in the Skupina výtvarných umělců (Group of Fine Artists), Hofman was regarded as the most radical advocate of new ideas and also as an unusually inventive artist. The breadth of his design work was due in part to the activities of Artěl, which allowed him to work on various subjects, including glass, ceramics, tiled stoves, and inlaid wooden boxes. It was perhaps precisely because
he was not an expert in those fields, and was not burdened with prejudices and technical expertise, that he was able to overcome conventions and enrich those fields with his creativity. He took pleasure in "inventing simple forms that would be made either by hand or by some unusual manufacturing process ... For us, the slightest inspiration became an architectural task", Hofman said, recalling the period.
Furniture design, 1912—1913, pen-and-ink, ink wash, and pencil on paper
| | |
| --- | --- |
| 4/ IN SEARCH OF IMMEDIACY OF EXPRESSION | |
Nor did Hofman remain on the sidelines. He put forward his opinions with his typical directness, and took it upon himself to promote "new art". Since the beginning of the 1910s the basis of his attitude had been the use of a modern form that was able to
depict a given subject synthetically and objectively, and at the same time to embody a distinct idea. He called this requirement the "ideality of form" (idealita formy), and wrote about it at lenght in his manifesto-like "Duch přeměny v umění výtvarném" (The spirit of transformation in the fine arts), published in 1913 in the Almanach na rok 1914 (Miscellany for the year 1914). Josef Čapek took a similar line at the time, speaking of the "ideality of form" (ideálnost formy), its logic, and independence.
| | |
| --- | --- |
| Woman with a fan, 1917, watercolour on cardboard, 43,7 x 27,5 cm | Head of a woman, 1920, watercolour on paper, 42 x 30 cm |
| | |
| --- | --- |
| 5/ THE DOSTOYEVSKY SERIES AND HOFMAN´S OTHER PORTFOLIOS | |
The Dostoyevsky series was the first of the five print portfolios by Vlastislav Hofman. It was published by František Borový in Prague in 1917, with the aim of achieving greater publicity for the works and the artist, something made difficult by wartime. The decision proved to be a good one as was soon confirmed by the acclaim the series received from Czech and foreign experts. It did indeed help Hofman to become better known.
| | |
| --- | --- |
| A girl at prayer (third print of the Physiognomies portfolio), 1917—1918, coloured linocut, 29 x 20 cm (size of the paper) | Christ blessing (third print of the Ethiopia portfolio), 1919—1920, coloured linocut, 30 x 23,8 cm (size of the paper) |
| | |
| --- | --- |
| 6/ HOFMAN´S PAINTING AND THE BIRTH OF THE TVRDOŠÍJNÍ | |
Hofman´s essay "Duch přeměny v umění výtvarném" (The spirit of transformation in the fine arts) was almost a manifesto in praise of dynamic, spontaneous, emotional, and spiritual art, and calling for insight into the hidden mystery of reality and grasping it with the strenght of spirit and intensity of feeling. In August 1914, however, the war intervened, nipping all such ideas in the bud.
The war also meant the postponement of any public exhibition by these young artists. The way to their first exhibition was long, full of animosity, and suspicious; it was not until March 30, 1918, that the exhibition "A přece! Výstava několika tvrdošíjných" (You'll see! An exhibition by some of the stubborn) opened, featuring Hofman, Josef Čapek, Václav Špála, Jan Zrzavý, Rudolf Kremlička, and Otakar Marvánek. Neumann acted as their patron in matters of theory.
| | |
| --- | --- |
| Magdalena (Woman weeping), 1919, pastel on paper, 32,5 x 34 cm | Mother and child, 1920, oil on canvas, 73 x 59 cm |
| | |
| --- | --- |
| 7/ "CEMETERY CULTURE": HOFMAN´S CREMATORIUM DESIGNS | |
The drawings and the linocut of the cemetery in the Prague suburb of Ďáblice, which Hofman published in Czech and German journals, were like icons that introduced Cubist architecture to the general public. It was because of them that the Czech and then Czechoslovak public came to associate Cubist architectural forms with a gloomy function and form.
Vlastislav Hofman´s contribution to the development of modern sepulchral art was not, however, limited to the Ďáblice designs. His later work reinforced the connection between Cubism and the "last things". In this respect, Hofman was no exception among the Cubists. Pavel Janák and, of the younger Cubists, Bedřich Feuerstein also worked on designs of tombs, monuments and crematoria.
Design for the rebuilding of the Vyšehrad Citadel, Prague, perspective of the new part of the Slavín Cemetery, 1915, pencil and coloured pencil on cardboard, 30 x 88 cm
Vlastislav Hofman and František Mencl, Crematorium in Moravská Ostrava, chapel interior, 1923—1925, demolished in 1980
| | |
| --- | --- |
| 8/ MONUMENTALITY AND MYTH: URNS, WORKS IN METAL, AND FUNERARY MONUMENTS | |
In his essays Hofman, guided by his interest in the revival of
cremation and in the mistery of old Slavonic myths, focused on ancient burial rites. The essay "O urnách" is evidence of his sensitive, romantic imagination. In the context of the new practises for disposing of the dead, the essay constitues a manifesto.
| | |
| --- | --- |
| Monument, 1913, linocut, published in Červen I, 1918, č.8, p. 117 | Monument to K. H. Hilar, Vinohrady Cemetery, Prague |
| | |
| --- | --- |
| 9/ VLASTISLAV HOFMAN, STAGE DESIGNER | |
When Vlastislav Hofman created his first design for the theatre in 1919, he had ten years of work in architecture, applied art, painting, and printmaking behind him.
Three costume designs for Jaroslav Hilbert´s Kolumbus, 1924, directed by K. H. Hilar, at the National Theatre, Prague, coloured chalk and collage on paper, 40 x 17 cm
Set design for Shakespeare´s Hamlet, 1926, directed by K. H. Hilar at the National Theatre, Prague, mixed media on paper, 24,5 x 24, 5 cm





Making obeisance, scene from Shakespeare´s Richard III, 1934, directed by Jan Bor at the Municipal Theatre of Královské Vinohrady, yellow coloured pencil and gouache on paper, 49 x 65 cm
| | |
| --- | --- |
| Laboratory scene, Karel Čapek´s R. U. R., 1929, directed by Josef Kodíček at the Municipal Theatre of Královské Vinohrady, yellow coloured pencil, gouache, and photomontage on paper, 46 x 53 cm | |
| | |
| --- | --- |
| 10/ THE BOOK ART, BOOKPLATES, AND POSTERS OF VLASTISLAV HOFMAN | |
Hofman´s interest in literature and books led him increasingly to concentrate on the design of covers, illustrations,
and graphic for books in the second half of the 1910s and especially in the following decade. As an avant-garde artist, he sought a new voice in book art, with a rawer, more down-to-earth style. He was successful because he was unafraid, candid, and unbound by convention. As an architect, painter, printmaker, and stage designer, his approach was freer than others working in book art, and he enthusiastically broke the rules. In that respect he was like his friends from the Tvrdošíjní (The Stubborn), above all Josef Čapek and Václav Špála.
| | |
| --- | --- |
| Title page, Musaion 2, 1921, spring 1921, Aventinum, Prague | Poster for August Strindberg´s Queen Christina, 1922, 121 x 90 cm |
| | |
| --- | --- |
| 11/ ENCOUNTERING THE YOUNG GENERATION: TECHNOLOGY, TOWN PLANNING, MONUMENTS, AND BRIDGES | |
Hofman´s predilection for naive and primitive art, his celebration of "non-palatial art" that did not need "to shroud itself in the cloak of divinity",
was similar to the programme of the early Devětsil. The programmes of Magic Realism and naive Purism that the members of this group endorsed in 1920—22 could be summed up best by Hofman´s assertion that the more one stripped things of all that was unnecessary, the more strongly their spiritual essence came through, or by his comment about "reality illuminated from within."
Vlastislav Hofman, František Mencl and Miloslav Kovalevski, Footbridge to Židovský ostrov, Prague, view from the island, 1941, photograph: 18 x 24 cm
Vlastislav Hofman and Jan Fischer, Footbridge, Slovanský ostrov, Prague, view from the north, 1941—1948, photograph: 17 x 24 cm